We're not all about big trucks, cranes, and HIAB lorries! We have smaller transport vehicles such as our trusty 4×4. We use these smaller vehicles in areas that aren't suitable for larger transport, or we use them to collect our smaller welfare units.
Either way, we make sure that whatever situation you're in and whatever plant transport needs you have, we will find a solution!
CRANE LIFTING TRUCKS FOR Welfare Cabins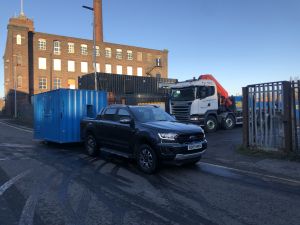 What is a Welfare Unit?
A welfare unit is a compact way of providing the necessary facilities on a building site. They can be static or mobile, often self-contained, and designed to suit the needs of workers throughout the course of a project.
Secure welfare units are available in several sizes and are typically equipped to provide facilities for your employees at sites even when there are no mains power, water or drainage. Ultimately to ensure you comply with Health, Safety, and Welfare Regulations.
Welfare units provide SOLUTIONS
Welfare units are ideal for sites with no or limited welfare facilities as they provide Generators for electric lighting and heating. Here is a list of how a cabin can be adapted to suit your site's requirement:
Static Welfare Units
Storage Containers & Security Stores
Fire Rated Portable Cabins & Buildings
Sleeper Units
Portable Toilets
Anti-Vandal Cabins
Welfare Vehicles
HIRE CRANE LIFTING TRUCKS FOR collection & Delivery of a welfare cabins in MANCHESTER & THE NORTHWEST
With a variety of Units that can be used for a number of purposes, if you need a site office will provide safety while you work please contact us!
Towable Unites are just one of the services that Site Movements UK offer, we also provide: HIAB Transport | Plant Transport  | Wideload Escorting