Today we are on-site delivering a number of towable units in Preston. The requirement was to provide towable units, including cabins and containers as the site was opened. Essentially, to provide environmentally safe, clean, and legally compliant welfare facilities.
With a variety of mobile and static welfare units manufactured, a site manager needs to ensure that the site has the correct facilities for its workers. If you choose to use Site Movements for towable units we're able to deliver to the site and set it up with stairs and a landing.
Just like we did for this job-based in Longridge, Preston.
Portable Welfare Cabin Hire delivered as Towable Units in Preston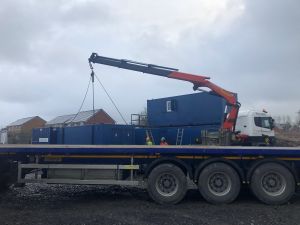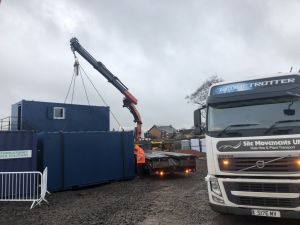 We deal with all leading supplier of static welfare accommodation units for hire-rental companies and site contractors.  So, we can advise on all providers of Site Welfare Units and portable facilities like :
Bathroom Units
Toilet Units
Urinal Units
Portable Canteen Units
Eco Site Welfare Units | Mobile & Towable Welfare Units
So, if you need help with towable units in Preston we can help by providing a dedicated site coordinator who will take care of the whole process. Whether you're looking for a towable canteen or initial site cabin costs we can evaluate your needs and create a plan.  From, oasis units for hire,
to portacabin with toilets, to 32ft container hire towable cabins; contact Site Movements UK and get your site welfare plan today.
we deliver an extensive range of towable welfare units to sites in Preston& Surrounding Towns. That means whether you're from Preston, Ribbleton, Penwortham, Ashton-on-Ribble, or Chorley we can help.