We were asked by a client in Newcastle to organise site container hire for their project. We fulfilled their need by utilising 3 of our trucks and loading a collection of cabins and containers. Delivering to the Newcastle site and then setting them up on the same day.
Site containers or site cabins can prove to be a valuable asset within a construction environment, providing a durable and efficient space to achieve maximum productivity.
Construction site cabins can be delivered within a matter of days and are ready to be utilised and used immediately once delivered,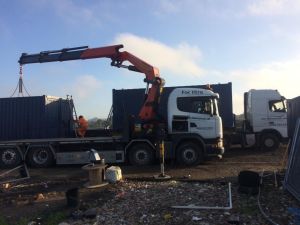 Site CONTAINER Hire & CABINS for Building sites
There are many different uses for site container units. Alongside storage, containers are often used as site accommodation and can be used for many uses. To name just a few, would include site offices, shower blocks, toilets, drying rooms, canteens, and sleeper cabins.
If your thinking about installing a shipping container as a Site Cabin then here's some things to consider:
SECURITY
Security is the top of the list on building sites. Whether your container is used as a site office that contains sensitive documents, or a storage facility for valuable tools, it's imperative to prevent criminals from having access.
Shipping containers are extremely secure units, However, all access points should be reinforced, and you should have a security system in place, including CCTV, alarms, etc.
SAFETY
Building sites can be dangerous places. On this basis, proper measures should be taken to ensure safety in all areas. And, his means sticking to strict guidelines. So, you may want to consult with experts for information about fire safety regulations, and always make sure that the electrics are in good condition.
DURABILITY
Site accommodation should be sturdy and durable. Many building sites can be exposed to all weathers. So, the accommodation should be able to withstand rain, snow, sleet, wind, etc.
SHELTER
When the weather becomes disruptive to the works taking place, it's important that construction site workers have somewhere to go to shelter. A site cabin should have no leaks or drafts and offer a warm interior. This is especially important for areas that will be used as canteens,  sleeper cabins, drying rooms and toilets.
FLEXIBILITY
Builders' cabins may need to move around the site. as the project reaches different stages. Container units are easily stacked and moved from one location to another by forklifts, cranes, and lorries. This is one of the main reasons for using converted shipping containers as welfare cabins.
COMFORT
A construction site can be an uncompromising place, and although comfort is not top of the list it is something that should be taken into consideration. Site accommodation should be properly insulated and temperature-controlled, offering appropriate entertainment and furniture.
Site Container Hire is just one of the services that Site Movements UK offer, we also provide: HIAB Transport | Plant Transport  | Wideload Escorting.