We have a wide range of clients, going from supermarkets to shopping centres and even utility companies! For one of our jobs, we were asked by United Utilities to assist them with heavy load lifting. Specifically, to. transport and install a generator to their site in Ellesmere Port. We used our crane lorry to transport it down and lift it up to install it in the designated place.
Truck rental for Heavy load lifting
If you're looking to move a heavy load between site. Then, its good to know we are able to supply all types of transport to meet any weight classification. There are three main classifications for road truck weight; they are light trucks, medium trucks, and heavy trucks.
Additionally, our services include very heavy trucks and transporter vehicles. This category of a truck is too large for highway use without escorts and special permits.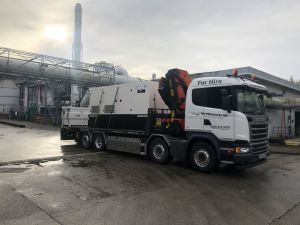 Transport Services | Crane lifting | Wide load
Our specialist trucks and skilled drivers handle wide and heavy loads safely following a full assessment and a plan that is tailor-made to suit your exact load handling requirements.
Our crane lifting services also provide crane engineers with a wealth of experience within the industry. And, we consistently invest in our training and equipment which keep us at the forefront of changes in technology.
So, if you need transport services for heavy or wide loads that require crane assisted lifted and placement we can help. Site Movements UK will provide a dedicated site coordinator who will take care of the whole process
Why not make us your professional haulage logistics partner for abnormal loads and specialist heavy lift services!
Heavy load Vehicles & Wide load Escorting SITES IN Ellesmere port and across the UK.

Site Moves
Factory Relocation
Drilling Rigs
General Haulage
Tractors
Crushers & Screeners
Containers & Cabins
Machinery & Stor