Areas We Cover
Hiab Truck Rental Greater Manchester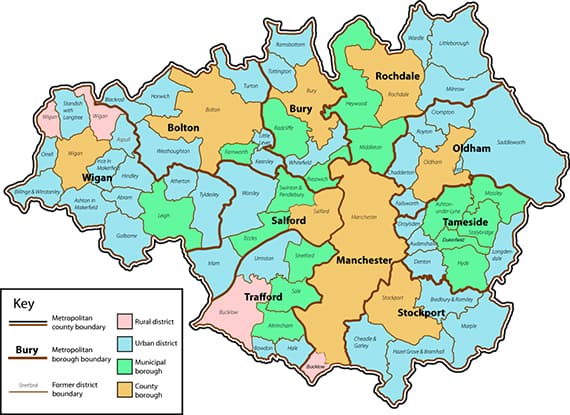 Greater Manchester's has significantly transformed over the past 20 years. Notably, Greater Manchester metropolitan county and its combined authority area in the North West of England is now the third largest in the country with a population of 2.8 million.
Today, Greater Manchester comprises ten metropolitan boroughs of Bolton, Bury, Oldham, Rochdale, Stockport, Tameside, Trafford, Wigan, and the cities of Manchester and Salford. SiteMovements UK are able to work with any development sites across Greater Manchester as the demand for additional housing, facilities and amenities continues to grow.
Are you looking for Hiab Truck rental In or around Greater Manchester?
We offer a friendly and reliable Hiab hire service who stay with the job in hand 24/7, from start to finish no matter what the job is. Health and safety is a priority to every single member of our staff, whether it's on site or on the road our fully trained and fully equipped drivers will take care of your load.
Our transport team deal with rigid Hiabs, rigid beaver tail plant trucks, low loaders and pickups for towable units to name a few. So, if your not sure which Hiab is right for your job; then we can help.
From start to finish we take care of it all from site surveys and risk assessments to transport solutions. We can take care of your site relocation and installation thanks to our 15+ years of experience!
Our prime Manchester-based location and good transport links means that we're able to attend when you need us. We'll remove the stress, time and planning cost by providing a dedicated site co-ordinator who will take care of the whole process. We pride ourselves on offering an efficient, effective and affordable service. Whether you're moving a wide load or a need support on a building site, our Hiab operators are trained and equipped to handle your requirements.
We have two yards currently, one in Bury and one in Bolton. This second yard means we're able to massively expand our services and we'll be able to have more Hiab hire Bolton equipment and it means we'll also be able to keep up with the extra demand we have been seeing recently.
So if you're looking for Hiab hire or any plant transport services across Greater Manchester, Bolton, Bury, Lancashire, Cheshire, Liverpool or even further, don't hesitate to drop us a message using the contact form below.
Site Movements UK supply Greater Manchester, Bolton, Bury, Lancashire, Cheshire & even further with HIABs and Cranes for transportation across the UK