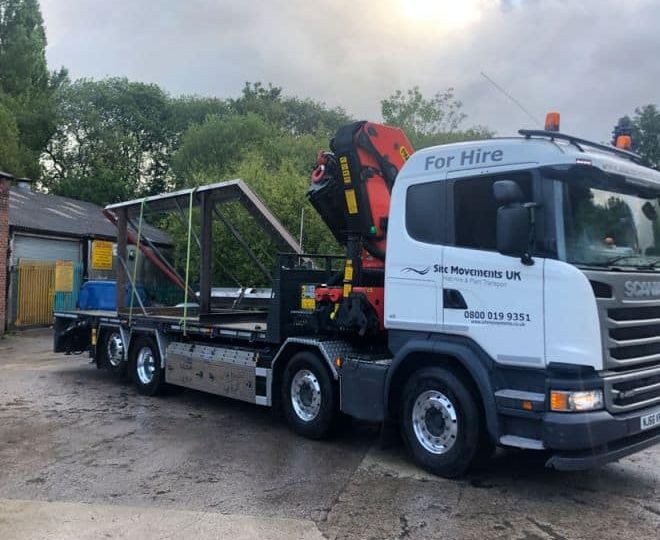 Hiab Hire Services are essential to any relocation, installation or different-sized load movements. To reach higher places and move heavier objects Hiabs utilise their flexible cranes which are powered by the engine. These vehicles are specially made to manage the lifting and transporting of containers and cargo.
It is important to firstly cover the basics, such as size and weight capacity. However, it is understandable to work around other factors like fragility, time and awkward heavy loads. In short, put your specifications and expectations above all else in your moving process.
For Hiab Hire near Me, Site Movements UK are the North West Company to support you during your project. Don't just hire a Hiab, hire our reliable team, who are just as made for the job as our vehicles.
Hiab Truck Hire near Me
As the saying goes: safety first! Hire a Hiab services are known for just how secure they are over long distances. This is ideal for customers, as it means peace of mind and an efficient process for all parties.
Your biggest advantage of hiring Hiab services is just how versatile these vehicles are. Versatility in many different aspects, for instance in vehicles, functionality, industries, etc. This opens up a lot of opportunities for different construction, agricultural and other projects.
Even if Hiabs aren't built for a specific part of the job, there are more vehicles for the job. Perhaps mobile, towable and wideload escorting units will be best equipped to tackle heavier jobs. Luckily for you, Hiab companies near me, such as Site Movements UK, have other vehicles.
Better than a Crane?
To specify, Hiabs are more effective than a traditional Crane, which is more than just to do with practicality. One of the main perks is that Hiabs are so much more time and cost-effective than cranes. In addition to Hiab Trucks being easier to move and function a lot better than mobile cranes on soft surfaces.
A Hiab's Hydraulic Crane is a lot more flexible, in terms of operating environments. As a result of their condensed design, allow for lifting in and out of tight spaces. So, this makes Hiabs just as reliable in your warehouse workplace as they are in complex city constructions.
There are two main Hiabs to choose from: a Rigid Hiab and an Artic Hiab. A Rigid Hiab is where the crane is built into a structure. Whereas, an Artic Hiab has the crane behind the cab.
Site Movements UK
Site Movements UK is the Hiab Hire near me service which you have been searching for. Hire a Hiab which suits your needs, with guaranteed safety and reliability when working with our team.
Our team operate in and around the Manchester area. Covering Bolton, Bury, Cheshire, City Centre, Lancashire, Oldham, Rochdale, Salford, Stockport, Tameside, Trafford, Wigan and surrounding areas.
To get in touch with Site Movements Hiab Truck hire near me, then contact our team. Hire one of our many vehicles to get the job done properly along with our team. If you have questions and enquiries for the Site Movements UK team, click here.