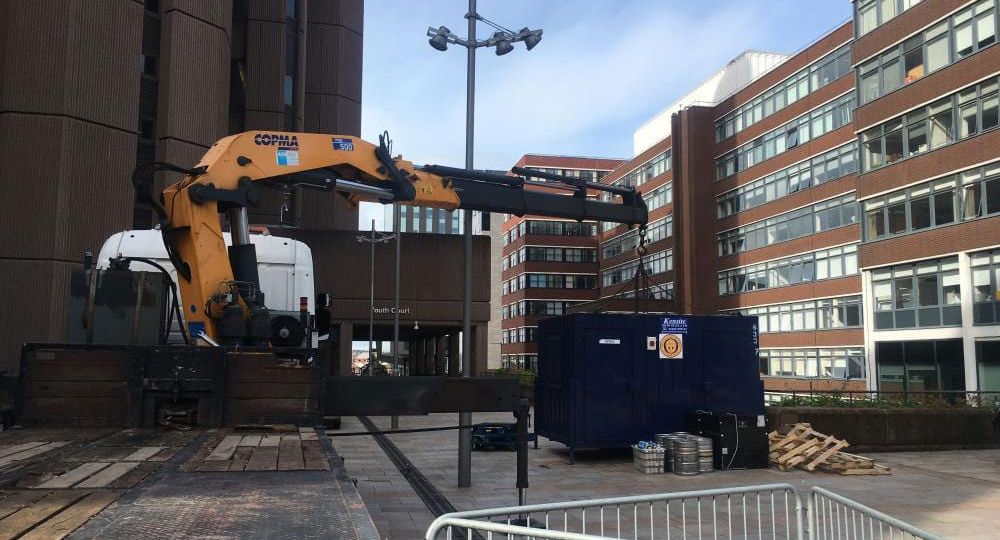 Here at Site Movements UK we have a range of HIAB cranes and transportation vehicles which are specifically designer for certain jobs.
What is a HIAB?
Technically, a HIAB is brand but the word has become associated in the haulage industry with a lorry mounted crane or lorry loader. The HIAB cranes have been created in order to be able to transport heavy machinery then lift it onto site using just one piece of equipment instead of using a separate transport and crane.
Different kinds of HIAB cranes
There are two main kind of HIAB vehicles, rigid and artic.
Rigid HIABs are a vehicle which is made up of a truck, trailer and lorry mounted crate which is all connected by one rigid structure. These cranes are able to fit into tigher spaces compared to trucks and trailers. With these kinds of HIABs, the crane can be placed either at the front or the back of the vehicle. These rigid HIABs are referred to as either rear mount of front mounted.
Rigid HIABs are also able to carry loads larger than the trailer body. An additional trailer can be pulled along and this is called a wagon and drag.
Artic HIABs is a truck in which the lorry mounted crane is directly behind the cab. They can be used to pull around a range of different trailers and they can also be used in a tandem lift. This is where two trucks lift a larger than normal load.
Site Movements UK
Our teams have years of experience which means they're able to create a contract that works for your up and coming project. So whether you're looking to transport a wide load from one site to another, or you're in need of a short lease site office building, then Site Movements UK have you covered. Our team work across the North West, from Bolton to Salford, Trafford to Bury. We do travel further afar if the job requires. Why not get in touch with one of our team today to see what we can do for you!