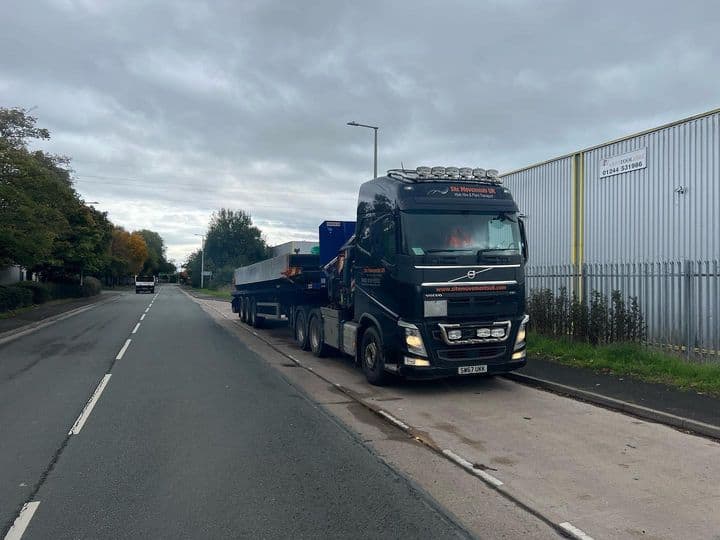 Wide load escorting vehicles are primarily used for carrying a wide or abnormal load that weighs more than 44,000 kg. In addition to a width of more than 2.9 meters, a rigid length of more than 18.65 meters, and an axle load of over 10,000 kg. A Wide Load Escorting Service will be much needed for heavy equipment, so contact Site Movements UK.
Carrying this much load and complying with the regulations is relatively easy with Site Movements UK. We are one of the leading abnormal load escorting service provider in the UK & haulage service provider in Greater Manchester. We have a team of skilled drivers who help clients in heavy load escorting safely and hassle-free.
What are the benefits of hiring Wide Load Escorting services?
There are multiple advantages of hiring wide-loading escorting services, and let us walk you through crucial benefits.
Cost-Saving
Managing expenses is one of the critical & challenging factors when you operate a business that involves loading abnormal loads on-site and transporting them from one place to another. In this case, you have to acquire escorting vehicles, manage drivers, meet compliances, and make other operational arrangements.
Hiring an escort vehicle service for wide or abnormal loads will save a hefty amount of expenses. You can hire escort vehicles on a partial or contractual basis on your requirement & need, along with professionally skilled drivers & operators, who will make the loading & carrying of heavy machinery easier.
Better Risk Management
Transporting goods is prone to potential transportation-related obstacles like accidents, vehicle breakdown, or other high-risk dangers. Therefore, it is the smartest option to hire escort vehicle services for loading & carrying wide or abnormal loads easily.
You can mitigate heavy risks by insuring the heavy load machinery, so it will cover the damage if any accident happens during transit. Also, the wide load escorting vehicle services drivers & operators are professional in handling the heavy machinery freight and will keep the complete safety of the load.
Latest technology
We have advanced technology deployed for wide-load escort vehicles. Thus will help you keep track of the heavy load by giving your real-time updates throughout the process. Hence, it is advisable to hire an escort vehicle service provider who employs advanced technology.
At Site Movements UK, we have equipped the most advanced technology in-house. This is where our team stays in touch with the drivers & operators to give them real-time updates about the routes & weather for efficient & safe carrying of the heavy load. You can track the same on your end.
Why choose Site Movements UK for wide load escorting services?
At Site Movements UK, we provide the safest, most robust strength, and supreme quality wide load escorting vehicles service in the UK.
Here, Site Movements UK have a range of wide load-escorting vehicles that you can rent or hire on a partial or contractual basis. You can even hire wide load escorting vehicle for machinery transport or transport abnormal loads at your site. We serve areas around Bury, Greater Manchester, and the entire UK.
In addition to, having a team of vastly experienced vehicle operators & drivers. All possess immense skills & qualifications to escort your wide loads throughout the UK.
At Site Movements UK, all our wide-load escorting comply with the laws of wide load carriers. Thus ensuring the best-in-class standards.
Conclusion:
Contact us today to get the best quotation for wide-load escorting services in the UK, and we are just one call away at 0800 019 9351 if you are looking to hire wide loading escorting services in the UK.